How to Look Different: 21 Easy Ways to Change Up Your Look
Redefining your look can be a great way to build confidence and rediscover who you are (or who you want to be). But figuring out what you want your new style to be can often be the hardest part of the process. The solution? Here are 7 quick and easy ways to change up your look that will help you get started on your personal journey!
Redefine Your Look with a New Wig
In today's world, your hair is whatever you want it to be—a fact that has only been reinforced by the number of women wearing wigs and hairpieces to enhance their looks. If you feel discontent with the way your hair looks or styles, consider purchasing a new wig that helps you achieve your ideal look seamlessly. Being able to try out a new style without having to do any styling is one easy way to switch up your look!
Look to the Stars for Hairstyle Inspiration
Some people may be content with their hair but have fallen out of love with their typical styling routine. If your normal hairstyle is feeling lackluster, consider looking to stars like Kristen Stewart who can inspire you with multiple versatile hairstyles that you can try out on your own. This will require you to go through some trial and error to find a new hairstyle that is completely you, but with the number of hairstyles out there today, you are sure to find something that fits you perfectly.
Switch Up Your Makeup
Do you normally prefer a nude face? Try adding some vibrant colors to the mix to make your features pop! Tired of vibrancy? Try more neutral makeup options for a fresh and relaxed look. Whatever you're accustomed to in the makeup department, it's always fun to try something new. A quick product swap here and there can make a huge difference in your look.
Read Also: Lingerie for Men's: Perfect Balance of Comfort and Style
Personalize Your Fit with Flashy Accessories That Pull Your Outfits Together
Accessories can go a long way in transforming your traditional look, no matter how small they may be. Next time you go shopping or raiding your closet, look for a pair of shoes, handbags, earrings, bracelets, necklaces, and sunglasses that you could incorporate into your day-to-day outfit. Just make sure you don't overdo it and pull too much attention away from your outfit as a whole!
Figure Out How to Transform Your Favorite Clothing Items into Entirely New Looks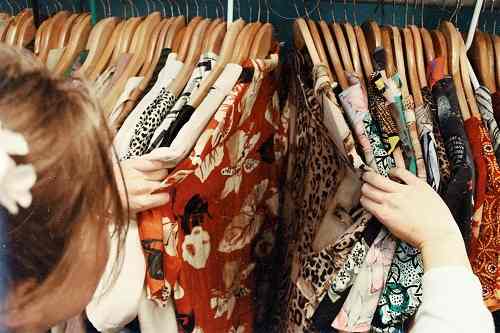 Although shopping can certainly be fun, chances are that you have excellent wardrobe options at your disposal that requires just a little inspiration on your end. For example, if you have a favorite dress that seems to fit nothing else in your wardrobe, look for some ways you can style a shirt dress to bring back life to this item. With a little bit of ingenuity, you can certainly find some great ways to turn old items into new, exciting looks.
Buy Something Out of Your Comfort Zone
While we're on the topic of shopping, one excellent tip to use if you want to change your look is to purchase something that is entirely out of your comfort zone (but still compatible with other items in your wardrobe, of course). This forces us to see ourselves in a new light, paving the way for invention as we seek out new items that represent who we want to become as we change up our looks. Even if you purchase a few things here and there that don't really fit your ideal look, you may surprise yourself with some great items that stand out and refresh your entire style.
Emulate Your Favorite Person and Their Look
Figuring out your look is something that takes time. If you find yourself truly struggling, consider emulating a celebrity or public figure that you look up to. This gives you a starting point that can be developed as you move forward. It will definitely require you to play around with your look as you figure out whether or not someone else's look will work for you, but you will be able to learn more about what you like, what you don't, and what types of clothing or makeup look best on you.
Get a New Haircut
You don't have to make a drastic change like a pixie cut or neon pink hair to refresh your look. Sometimes just a little change goes a long way. A simple haircut with layers, adding bangs or coloring your hair with balayage or highlights can do the trick. And if all of the above is too extreme for you, then even a deep conditioning mask that helps restore the moisture to your hair can change your hair texture.
Break The Shopping Rules
If you find yourself wearing the same kind of clothes over and over again, it's time to change the way you look at shopping. When you walk into a clothing store, look for pieces that you think you would never wear or won't look good in. You never know, that black jumpsuit you've been ignoring for so long might just look great on you. So if there's something that makes you go, "ew I would NEVER wear that," try it on. You never know, it might just end up looking fabulous on you, and if not, there's nothing to lose.
Whiten Your Teeth
A bright, white smile can do wonders for your confidence and overall appearance. There are plenty of kits available in the market that can help whiten your teeth or get rid of discoloration. Alternatively, a quick cleaning or whitening visit to the dentist can do the job too.
Change Your Diet
Changing your diet is a big commitment, but the results are worth it. When you see the changes in your body, it will not only change the way you look, but it will also make you feel terrific. Try to add more fruits and vegetables to your meals, reduce your intake of processed and sugary foods, and make sure to stay hydrated by drinking plenty of water throughout the day.
Find Your Perfect Red Lipstick
Bold, red lipstick is a classic look that never goes out of style. Take some time to try out different shades of red until you find the one that suits you best. A red lip can instantly elevate your look and add a touch of glamour.
Experiment with Different Eyeliner Styles
Different eyeliner styles can give you a new look each day, even when you're using the same products. Switch from a bold liner to a cat eye, from a natural liner look to a retro, vintage wing. If you're feeling fancy, add some glitter or change up your eyeshadow color to something fun and bright like electric blue.
Play with Colors
If you always wear the same color, expand your color spectrum to freshen up your look. Try prints and pop colors or pastels if you typically wear earthy tones or blacks.
Switch to Contact Lenses
If you wear glasses every day, switching to contact lenses can dramatically change your look. Colored contacts can make an even bigger difference, but make sure to choose a natural-looking color that complements your skin tone and eye color.
Invest in Gold, Dainty Jewelry
The gold, dainty jewelry look is in, and it's an excellent way to elevate your everyday look. Stacked dainty rings, layered gold necklaces, and dainty chain link bracelets are all great options. Solid gold is an investment that will last forever, or you can opt for gold vermeil, which is a more affordable option.
Change Your Fragrance
Your signature scent can say a lot about your personality, so why not switch things up and try a new fragrance? Whether you prefer sweet and floral scents or spicy and musky ones, experimenting with new fragrances can add a new dimension to your style.
Wear Statement Jewelry
Jewelry can instantly elevate any outfit, so try incorporating some statement pieces into your wardrobe. Bold earrings, chunky necklaces, or a stack of bracelets can add a pop of color and personality to your look. Just be sure to keep the rest of your outfit simple to avoid going overboard.
Update Your Eyewear
If you wear glasses, consider getting a new pair that complements your face shape and personal style. There are so many options out there, from trendy wireframes to classic tortoiseshell. If you're feeling adventurous, you can even try out some colored or patterned frames.
Embrace Your Natural Beauty
Sometimes, the best way to change your look is to simply embrace your natural beauty. Take care of your skin, hair, and body by eating well, exercising, and getting enough rest. When you feel confident and comfortable in your own skin, it will radiate through your appearance and make you feel like a whole new person.
Get a New Pair of Shoes
Shoes can make or break an outfit, so why not invest in a new pair that complements your style? Whether it's a pair of classic pumps, trendy sneakers, or comfortable flats, a new pair of shoes can give you a boost of confidence and make you feel like a whole new person. Our look is something that is personal to us. But even the most perfectly fitting of looks can begin to lose their excitement over time. Whether you're trying to find some simple changes or want to radically change your style, these 7 quick and easy ways to change up your look will help you redefine yourself without having to spend a great deal of time or effort in the process!
Also Read