How To Find The Best Face Cleanser To Treat Dry Skin?
Most people tend to put so much thought and research in buying the right moisturizers and serums but very little focus is given to the first and foremost step of a basic skincare routine: cleansing. Using a suitable cleanser according to your skin type has a greater impact than you think on the overall look and feel of your skin.
A good cleanser paves the way for the rest of your beauty products to work to the best of their potential. Hence, you must choose a face cleanser for dry skin that cleanses gently, without taking away your skin's natural oils and disturbing its pH levels.
In this article, you'll read about some of the most common concerns that people with dry skin have and also find yourself the best natural cleanser for dry skin type.
Is Cleansing Good For Dry Skin?
Regular cleansing is important to keep your skin free of dirt and pollutants. However, make sure that you use a mild dry skin cleanser with added moisturizers that won't leave your skin dull and dry.
If you're someone with dry skin, lean towards products like oil-based cleansers, cleansing milk, soap-free herbal powders, etc. Read on to know how you can find the best face wash online that will clean your pores without making your skin dry.
Read Also: Effective Home Remedies for Glowing Skin
Does Cleanser Make Your Skin Dry?
A good face cleanser for dry skin will leave it hydrated but remember, cleansing too much and too often can lead to extremely dry, itchy, and irritated skin. Choose cleansers free from parabens, sulfates, and alcohol. Look for hydrating agents like aloe vera, kokum butter, shea butter, honey, green tea, etc. in your cleanser and you're good to go.
Another thing to keep in mind if you have dry skin is to not over-cleanse or let the dry skin cleanser sit on your skin for too long. Massage your cleanser onto the skin only for a few seconds and wash it off immediately to prevent excessive drying of your face. Washing your face too often won't give your skin cells enough time to replenish their natural oils which will mess up the natural pH and hydration level of your skin.
Read More: Best Ways to Remove Blackheads
Tip: Use cold or lukewarm water to wash your face as hot water washes away your skin's natural oils more easily.
Should I Wash My Face Everyday If I Have Dry Skin?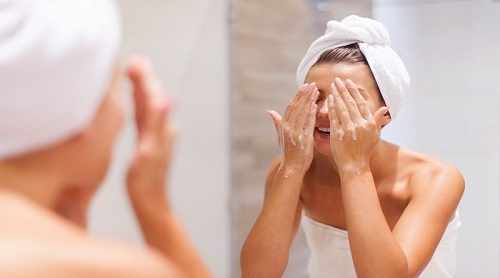 It is advised to wash your face twice a day for normal skin types. However, when it comes to dry and sensitive skin, it is better to listen to your skin's needs and wash your face only if you feel the need to.
You can also use a hydrating face wash during the night before going to bed and simply use lukewarm water to clean your face the next morning.
The ideal frequency also depends on the kind of cleanser you are using. Regardless of your cleansing habits and frequency, always follow up with a moisturizer and/or facial oil after washing your face in order to avoid scratchy, flaky skin.
What Is The Best Facial Cleanser For Dry Skin?
With so many natural face washes and formulas available in the market, one is truly spoilt for choice. However, one mustn't be lured by brand promises and instead, look for the composition while picking up an ideal natural cleanser for dry skin. A few things to keep in mind include:
– Choose all-natural face cleansers without any alcohol or synthetic materials as dry skin is sensitive and more prone to experiencing side effects
– Looking for deep-hydrating elements such as glycerin, hyaluronic acid, aloe vera and ceramides that replenish your skin with natural moisture.
– Pick up products rich in vitamin A, E, and B3 to further strengthen your skin's overall health.
– Depending on the level of dryness, choose from the best alternative like cleansing lotions, gel-based cleansers, oil cleansers, herbal soap bars, foam-free washes etc.
Here's a quick list to help you find the best face cleanser for dry skin :
Plum Goodness Hello Aloe Skin Loving Face Wash
Aloe vera is one of the best natural exfoliators that cleanses your skin without making it dry. This natural face wash contains real aloe juice to provide intense hydrating to your skin after each wash. It is completely soap-free and lathers up naturally to deep clean your pores without snatching your skin's natural oils.
Dr. Sheth's Moringa & Vitamin C Cleansing Oil
This non-drying, oil-based formula is ideal for effectively breaking down impurities and make-up and deep-cleaning your dry skin while hydrating it. It contains moisturizing oils such as moringa, coconut, passion fruit, and ultra-moisturizing almond oil. Apart from treating dry skin, this cleansing oil also works on removing pigmentation and brightening up your skin.
Forest Essentials Delicate Facial Cleanser
Rich with hydrating agents such as honey, lemon essential oil, and rosewater, this refreshing face cleanser is a gift for dry, sensitive skin. Honey is a wonderful natural cleanser that also moonlights as an excellent moisturizer, while rosewater works as a natural toner to clean and tighten pores. The beautiful citrusy natural fragrance is an added bonus!
Read Also: 8 Top Most Beauty Myths to Break Out of Right Now
Kama Ayurveda Sensitive Skin Cleansing Foam
Enriched with anti-inflammatory and anti-bacterial pure sandalwood oil, this gentle foam cleans dirt and impurities while keeping the ideal moisture level of your skin intact. Cold-pressed aloe vera juice and calendula further provide intense hydration while healing and restoring your skin to its natural texture. The mild formula is ideal even for the most sensitive of skins.
Soul Tree Indian Rose Face Wash with Turmeric & Honey
Based on ayurvedic principles, this organic face cleanser for dry skin brings together the nourishing properties of honey and antioxidant turmeric to create a non-drying, gentle formula for dry skin. Potent extracts from Indian rose and aloe vera further help in improving skin elasticity and texture.
So now you have all that you need to know to find yourself the best natural face cleanser for dry skin. Remember these tips while browsing for the best face wash online!