Top 20 Latest and Simple Mehndi Designs for Kids in 2023
Are you on the lookout for the latest mehndi designs for kids in 2023? Look no further as we have got you covered! We understand the pain point of parents who are always on the hunt for unique and beautiful mehndi designs for children that there will love. And that's why we have curated a collection of the best mehndi designs for children these will absolutely Loved.
Our collection features a wide range of designs that are not only trendy and stylish but are also easy to apply. From cute animal designs to intricate floral patterns, we have something for every child. Our mehndi designs are perfect for all occasions, be it weddings, festivals, or even just a fun day out with friends.
In India, festivals or functions start with mehndi designs. Kids will show excitement about applying mehndi to their hands. In this article, we help you to decide the best and most suitable mehndi designs for kids to your little princess.
We know that as a parent, you want your child to stand out and make a statement. That's why our designs are not just limited to traditional patterns but also include contemporary designs that are sure to make heads turn.
Mehndi is an age-old tradition that has been passed down from generation to generation in many cultures. In recent years, mehndi has gained immense popularity among kids as well. From weddings to festivals and special occasions, mehndi is a must-have accessory for many children. It not only enhances their beauty but also adds a touch of tradition to their look. Here, we have curated a list of the top 20 latest and simple mehndi designs for kids that are sure to make your child's hands stand out.
Cute Backhand Mehndi Designs for Kids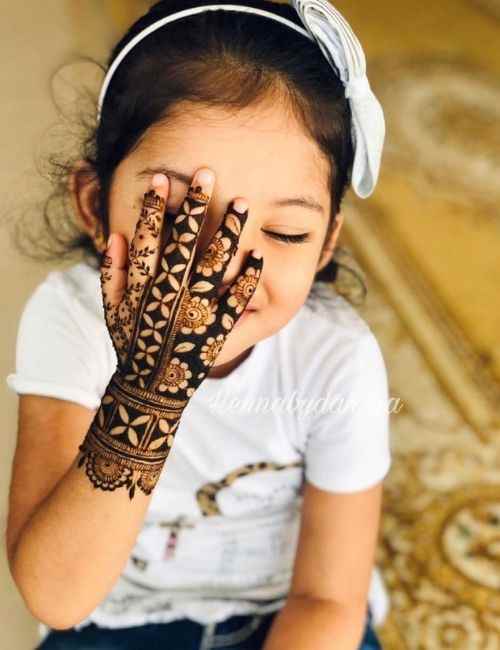 Source:hennabydahsha
Heart Motif Mehndi Design for Children
Children have a thing for hearts. So why not get their hands imprinted with this incredibly charming mehndi design with a huge heart motif in the center and some edgy strokes outlining it?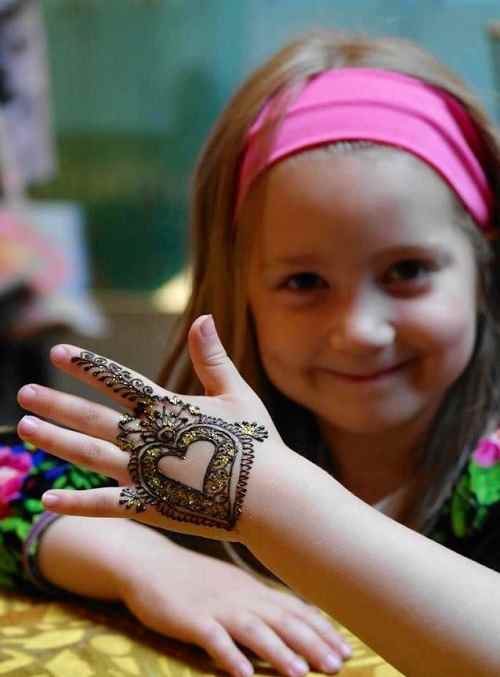 Source:pinterest
Crush with Abstract Designs
Source: Instagram
See Also: Ramadan Mehndi Designs
Round Mehndi Designs on Palm for Kids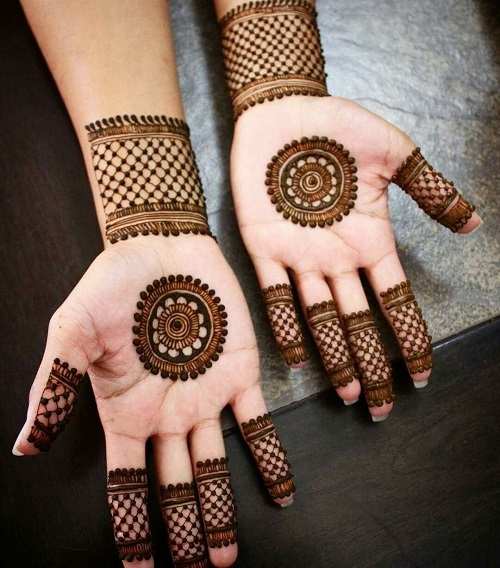 Source:pinterest
See Also: Circle Mehndi Designs for Hands and Feet to beautify you
Heart Shaped Mehndi Design for Children
The palm of your hand is a canvas for self-expression, and this particular design is both charming and effortless. It features a series of hearts nestled within each other, forming a lovely central motif. The checkered pattern infilling the hearts adds a playful touch, while the lacy silhouette surrounding them enhances the overall delicate appeal. The tiny hearts decorating the fingertips are simply adorable, embellished with a dotted pattern that further accentuates their cuteness. Your child will surely adore this design, and the best part is that it's a breeze to create!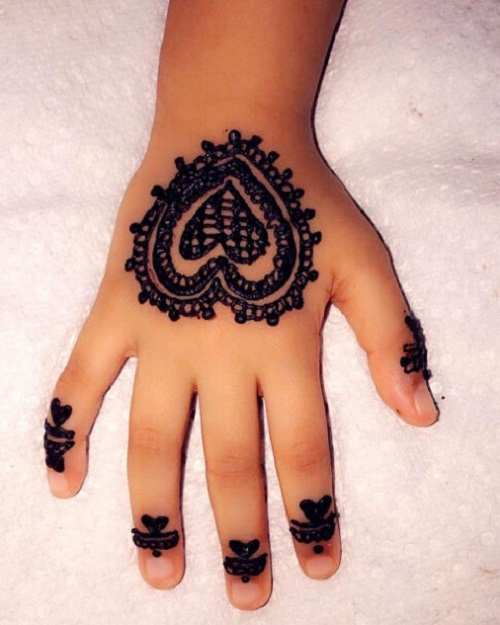 Source:Pinterest
Floral Back Hand Mehndi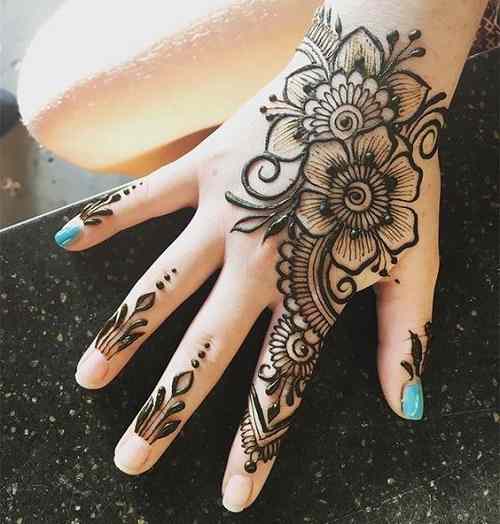 Source: Pinterest
See Also: Latest & Unique Rajasthani Mehndi Designs You Should Try in 2020
Foot Mehndi Design for Kid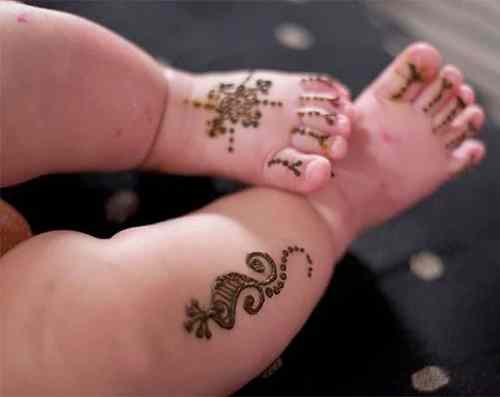 Source:Pinterest
Cat Paws Mehndi M
ehndi Designs for Children
Children have a great love for animals, particularly those that they can touch and pet. I personally find cat paw prints to be incredibly charming and children seem to share the same fascination. It becomes even more enjoyable when you have a pet cat. These designs are effortless to create and bring a lot of happiness to children.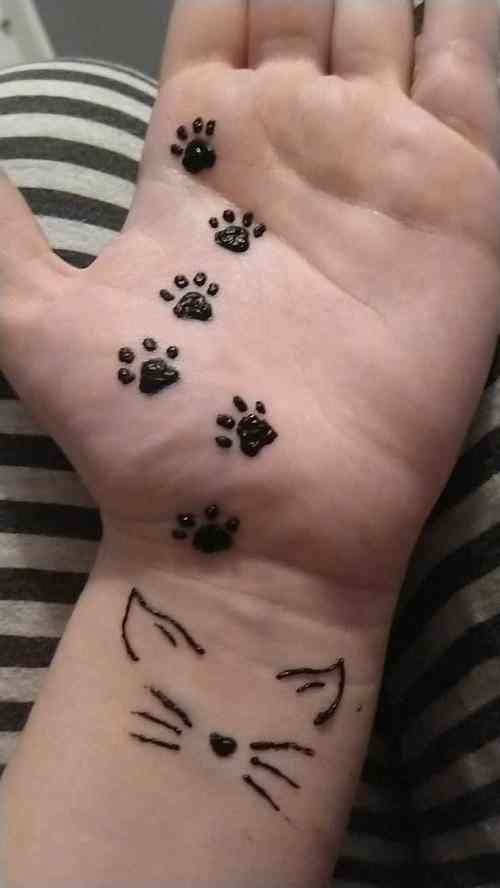 Source:Pinterest
See Also: 20 Stylish & Unbeatable Marwari Mehndi Designs
Haath Phool Mehndi Designs
We came across this wonderfully feminine flower trail when looking for the latest mehndi patterns for newborn girls. It's nice and detailed. While the tips of the fingers are embellished with spiral-like designs, the middle of the hand is ornamented with three adjoining flowers that continue all the way to the tip of the index finger. Isn't it gorgeous?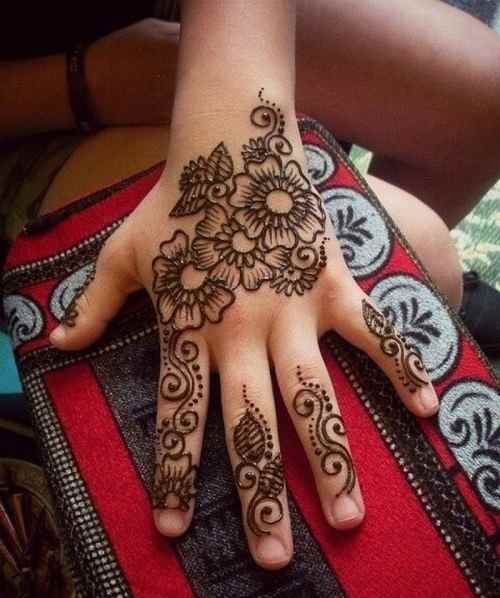 Source:Pinterest
Heart Bunch Mehndi Design for Children
Currently, hearts are considered to be very feminine and are one of the simplest patterns. The Mehndi design in the shape of a heart is an ideal choice for children who are between the ages of 7 and 8. Children have an affinity for hearts! The symbol of love and innocence is represented by hearts, and children draw them frequently. I appreciate the way the palm's center is adorned with an assortment of both small and large hearts, ranging from basic to patterned ones. To break up the monotony, the fingers are adorned with simple, trailing designs.
Source: Pinterest
Lace like Mehndi Design for Kids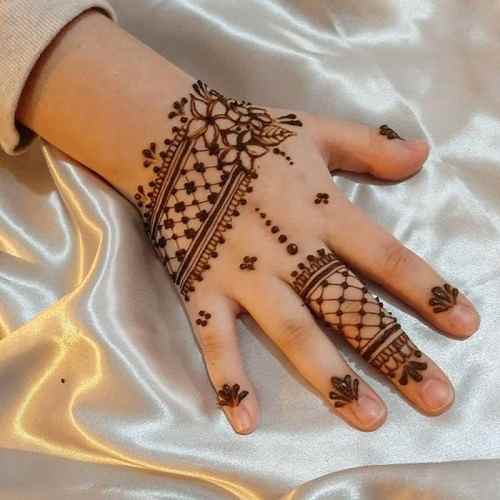 Source:Pinterest
Mandala circle Mehndi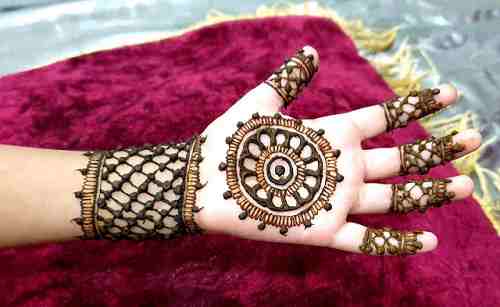 Source:Pinterest
Jaal Pattern Mehndi Design
A trendy mehndi design for children featuring a jaal pattern spread across the entire palm is a chic choice. The intersecting lines and decorative elements make it an ideal henna design for those new to the art. This design can be recreated on both hands. It's a great option for anyone seeking henna designs suitable for any occasion.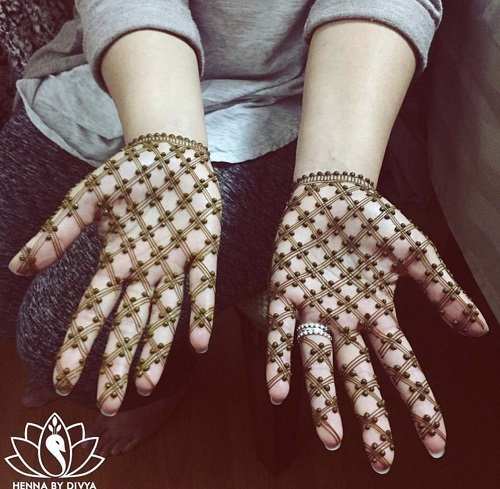 Source:Instagram
See Also: Latest and Trendy Bridal Mehndi Designs You Love To Try In 2020
Stars on Fingers with Butterfly Mehndi Design for Children
Both kids and adults love butterflies for their beauty and symbolism of freedom and peace. They gracefully move from flower to flower without causing harm. There are many design variations for butterfly drawings that your kids can choose from, and they can have fun drawing their favorite designs on their hands.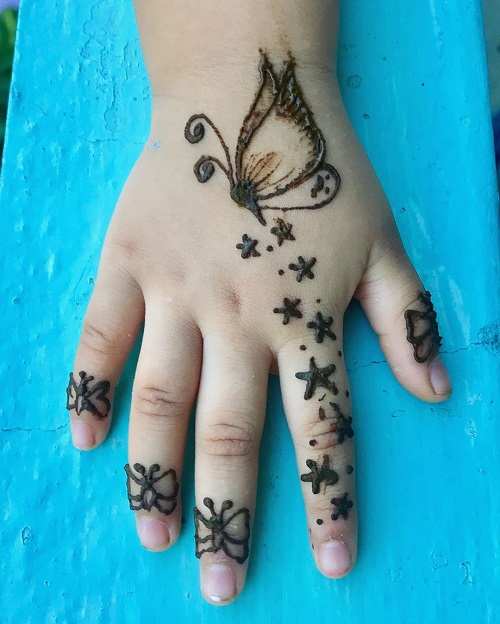 Source:Pinterest
Little Cat Mehndi Design for Children on Back Hand
With simply a tiny cat on the palm's back, this is a lovely and adorable kid mehndi design. The kitten's large button-like eyes, little body stripes, bent tail, and tiny ears make it even cuter-looking. This is a preferable option to applying stickers and sticky tattoos on children.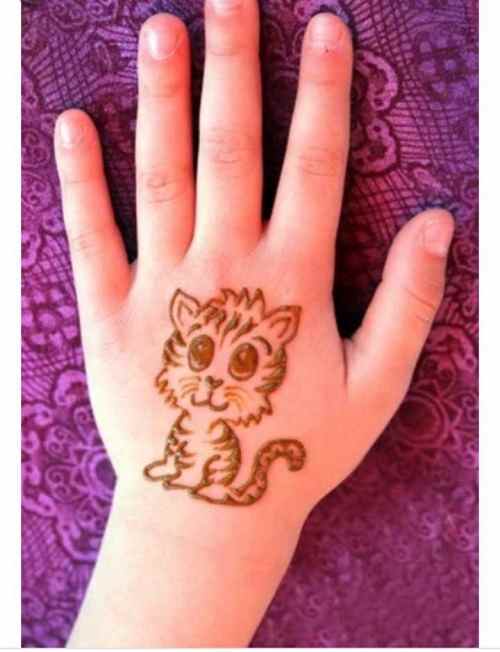 Source:Pinterest
Jewelry and Flower Haathphool Mehndi design
You may definitely get your children's hands adorned with a beautiful haathphool mehndi pattern like this if you don't want to adorn their hands with those bothersome, hefty gems or bangles when attending a wedding. Very alluring are those enormous blooms, the dotted chain accents, and the web-like design.
This type of Mehandi serves a dual purpose. Firstly, it is not overly intricate, and secondly, it serves as an ornamental design that eliminates the need for additional jewelry. Furthermore, it is easy to apply as it only covers a portion of the hand. The elegant and delicate swirls and patterns would undoubtedly appeal to children as well.
Source:Pinterest
Simple Mehndi Design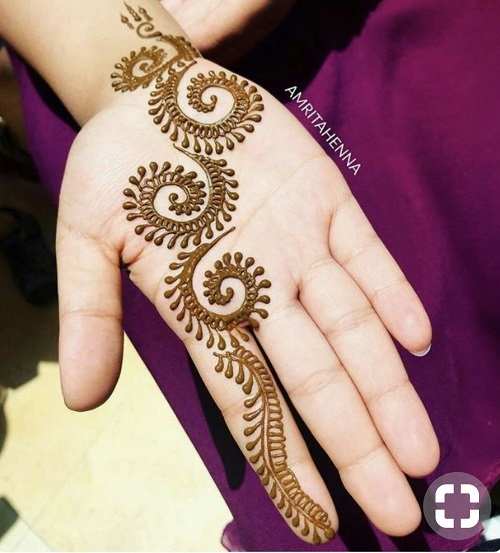 Source:Instagram
Swirl and Twirl Designs for Kids
A lovely leafy path design with curving designs and flowers to adorn your child's feet. We like how this design is neither too complicated nor too simple. The small floral patterns appear highly remarkable, featuring a minimalistic style that exudes elegance while showcasing impeccable craftsmanship. Achieving such precision with children can prove to be challenging.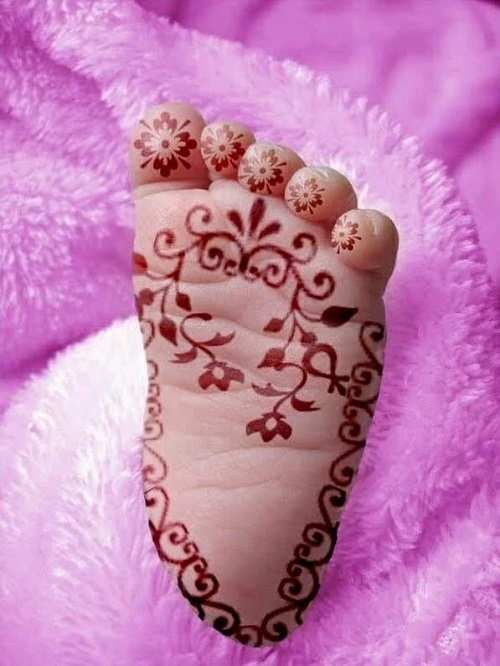 Source:Pinterest
Unicorns Mehndi Design for Children
Unicorns have an enduring appeal to girls, even as they mature into adulthood. Therefore, there is no better choice of design to bring boundless joy to a girl's heart. She is sure to adore her chosen design.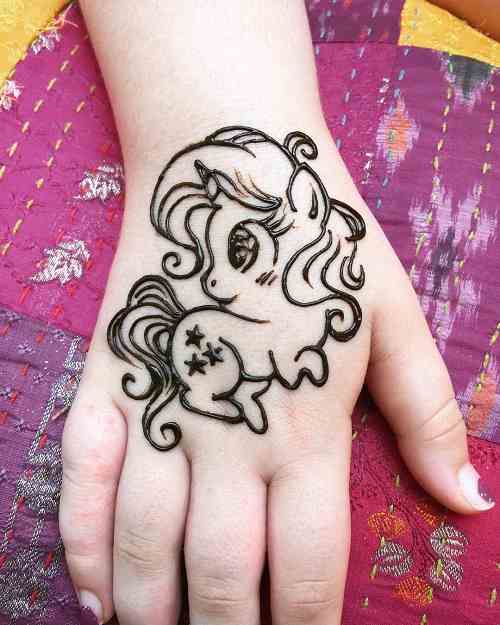 Source:Pinterest
One Line Finger Mehndi Design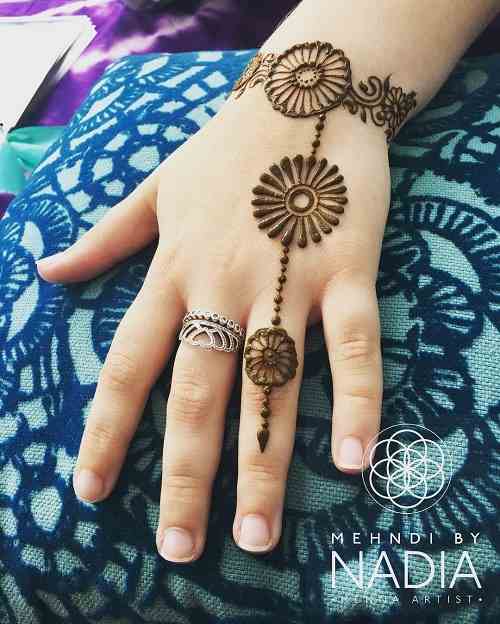 Source:Instagram