6 Women's Watches for the Modern Fashionista
Nowadays, a watch has become a lot more than just a time-telling device. More than its practicality, people wear watches to display their sense of fashion and make use of their smart features. The modern fashionista knows that a great watch can make all the difference in her look.
There are many different women's watches on the market, but not all of them are created equal. The best watches for women are stylish, functional, and versatile. They should be able to be dressed up or down, and they should be able to withstand the rigours of everyday life.
The modern fashionista is always on the go and needs a watch to keep up with her busy lifestyle. She needs a watch that is stylish, functional, and versatile. If you're that fashionista, then this curated list of the top pick in women's watches will leave you speechless and itching to shop.
Best Women's Watches
Channel Your Feminine Energy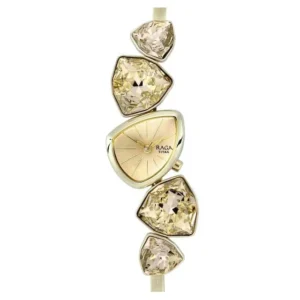 This eccentric design in women's watches is a big hit for fashion-conscious ladies! Imperfections in the dial shape and adjoining crystals give a unique look that can't be found elsewhere. If you are creating a watch collection, this watch is a must-buy for you. When paired with complementary matching jewellery, this watch really comes into its own and showcases a grace unlike any other you have seen before!
Bask In the Glory of Black!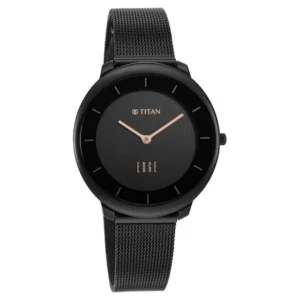 For those who appreciate the mysterious charm of black colour, this all-black slim watch from the 'Edge' collection at Titan is the perfect example of timeless accessories that goes with every outfit. The stainless steel strap adds a comfort factor which is hard to miss. This gold watch hands provides a striking contrast of colour, which makes this watch easy to pair with gold bracelets or cuffs.
Spiral Away in Style!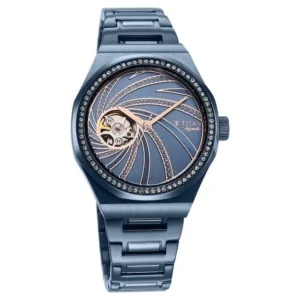 Since every woman's style is unique, we made sure to add a little bit of everything to this list. A classic stainless steel strap in blue colour is a hit amongst fashionistas. On top of the vibrant colour, the rose gold accents add dimensions to this watch's design. The open-face element gives it a rugged look, perfect for business casual looks.
Allure Every Onlooker!
Elevate your style with the exquisite women's analogue watch from the Raga collection by Titan. The watch showcases a round-shaped multi-coloured dial housed in a 35 mm diameter case for a refined appeal. Crafted with a brass bracelet, this timepiece radiates a captivating rose gold hue, ensuring an attention-grabbing look. Embrace sophistication and elegance with this stunning Titan Raga watch, designed to make a lasting impression.
A Watch That Embodies You!
The Animalia collection from Titan watches has something for every free-spirited woman who wants to explore the world on her own conditions. Free from self-inflicted bounds, these fashionistas know their worth, and these watches are perfect for them. The undeniable appeal of these watches is similar to the resilience of the women who style them.
Show Up to Work in Style!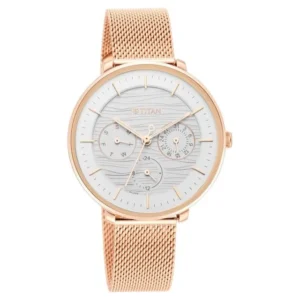 Unleash your inner style icon with this magnificent rose gold workwear watch, an exquisite statement piece designed exclusively for the modern woman who craves the spotlight. With its alluring rose gold stainless steel strap, this timepiece seamlessly blends fashion-forward aesthetics with unwavering durability. Let the rose gold dial command attention as it effortlessly catches the light and mesmerizes onlookers. Whether conquering the boardroom or indulging in weekend adventures, this watch is a testament to your impeccable taste and commitment to looking extraordinary in every facet of life. Embrace this timepiece and embrace your best self, confident that you always make a bold, stylish statement.
Conclusion
Watches are not just mere accessories; they are an extension of your personal style and reflect your unique personality. The choice of watch speaks volumes about an individual, revealing intriguing aspects of their character. That's why it's essential to carefully consider the watch you select to enhance your everyday look.
When you embark on your quest for the perfect timepiece, don't settle for anything less than superior quality. Investing in a well-crafted watch is an investment in yourself, a statement of your discerning taste. Look no further than reputable brands like Titan and Sonata, known for their exceptional craftsmanship and timeless designs.
Read More: