Buy Stunning Diamond Studs for Women Online
For any woman, treating herself to the ideal set of diamond studs is a game-changer. The appeal of diamond studs artfully reflects your timeless charm and persona, whether your goal is to radiate magnificent elegance at an evening gala or flaunt your perfect style at work.
Diamond jewellery improves any look with its elegant shine and brightness, keeping you fashionable wherever you go. It is no surprise that women across the globe fall head over heels for the captivating charm of diamond earrings. If you are searching for studs, look no further, as this blog showcases some of the most beautiful diamond studs for women.
5 Best Diamond Stud Earrings
14kt Yellow Gold Shimmering Diamond Stud Earring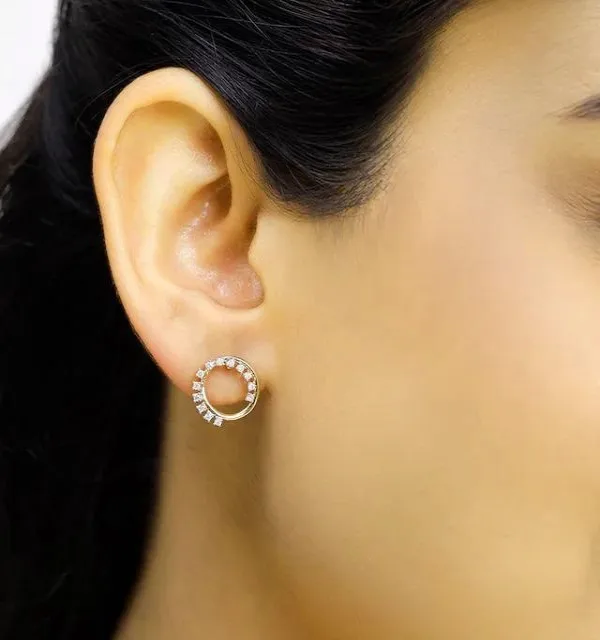 This lovely, sophisticated stud earring is part of Mia By Tanishq's Nature's Finest line. It has been handcrafted in 14KT yellow gold. Its circular design is half made of sparkling diamonds and the other half solid gold. The design is unique because of the apparent gap in the centre of the earring. The overall design style of the earrings is ideal for adding a dash of glitter to any ensemble.
14kt Yellow Gold Diamond Stud Earrings
This set of diamond stud earrings for ladies features a star pattern. With these studs, you will feel the centre of attention at every party or occasion. This set of diamond studs for women is offered in the Finest Core Mia By Tanishq Collection and is made of 14 Karat gold. These adorable earrings will give you extra sparkle, light up your face, and enhance your look.
14kt Yellow Gold Earring – An Underwater Bliss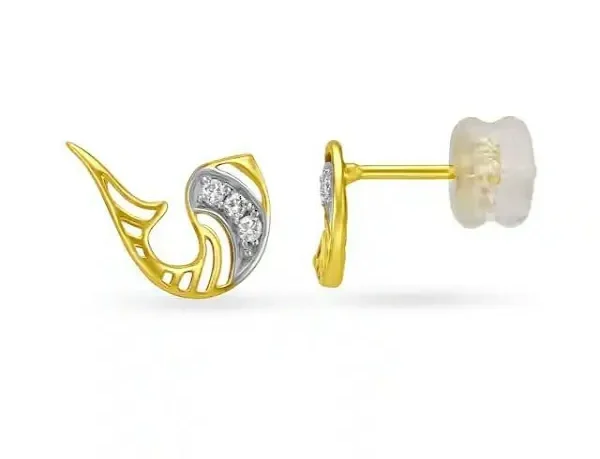 Have you ever found the world under the sea to be fascinating? If yes, this pair of diamond studs for women from the Wavemakers Collection by Mia by Tanishq will effectively capture your love for the ocean and underwater serenity. The likeness of a fish has been expertly crafted into these 14kt yellow gold earrings. This pair of earrings gives a sharp and refined look to its wearer. Pair these earrings with a trendy co-ord dress to show off their brilliance and add a touch of class to your face. These fish-shaped earrings, which sparkle with just the perfect amount of gold, suit formal and everyday clothing well.
14kt Yellow Gold Diamond Stud Earrings
Are you looking for a cheap diamond studs option? If so, this pair of diamond studs for women suits you. This set of earrings is offered by Mia By Tanishq in their Finest Core Collection. This pair of studs is perfect for a woman who likes a basic, stylish look. Any ensemble will look great with this products versatility.
Glide Gracefully In 18kt Gold & Diamond Studded Earrings
This pair of diamond studs for women is available in the Mia by Tanishq Sparkle Collection. It almost resembles a sea wave. This earring is covered in 84 diamonds in total. 18KT gold earrings adorned with diamonds are handcrafted especially for you. This pair of diamond studs for women is a splendid masterpiece that captures your love for art and creativity. Wear these diamond studs for women to your next party or celebration. To look more opulent, wear it with a delicate rose gold necklace.
Add a Bling to Your Look
These beautifully created diamond studs for women will enhance your appeal while displaying your unique personality. Diamond stud earrings elegantly improve your look for any event, from casual trips to sophisticated parties to extravagant all-girls gatherings. You are thinking of looking at other designs to elevate your look. Then it is time for you to check out the incredible selection of diamond studs on the Mia by Tanishq website.
Read More: